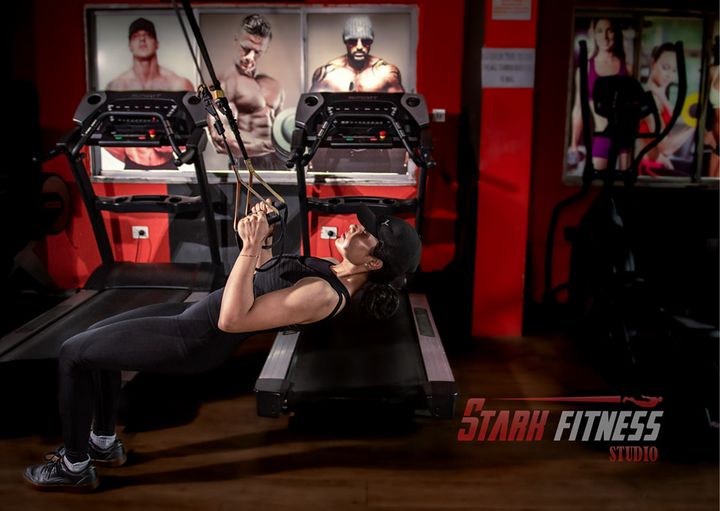 Benefit Yourself by Exercising the Right Way with Stark Fitness Studio
Join Us and Enjoy the Benefits of Physical Activity!

Have you been sitting at home wondering about your well-being? Did you look in the mirror today and saw a muffin-top you didn't like the size of? Well, it's time to take matters into your own hands!
Stop typing "Women's workout gyms near me" on the search engines and give us a call now! Gaining weight is a natural process of getting older. But it's up to you to decide how you want to look as you move forward in life.
You can go with the flow and let your body be in charge…or you can be in charge of what happens to your body. Being fit, active and achieving your weight goal is what we'll help you with here.
Should I Only Exercise to Lose Weight?
Is hardcore exercise what you need to lose those extra kilos? The truth of gaining weight, or losing it, might surprise you. Burning calories is the way to go…but that does not mean you should wear yourself out.
Training of any kind - be it cardio, HIIT or simply grooving to Zumba - if not done properly, can do more harm than good to your body. With exercise, because yes you need to exercise to lose weight, you need a diet that helps you keep up with your active routine!
With exercise, you also need to build up your strength by consuming a balanced diet regularly. Exercise can, at times, decrease your appetite as well. You don't always feel more hungry when your body is undergoing training. What to eat and knowing if what you're eating is right for your body is crucial.
How Much Exercise Does My Body Need?

Stark Fitness Studio really is the best fitness studio for weight loss. And that is because we know what your body needs. An adult needs at least 30 minutes of vigorous activity - that's gymming, for you - 5 days a week for losing a considerable amount of weight.
Let us give you your daily exercise guidelines and fix you up with a diet chart…we're in this together! Combine some cardio and muscle training for 300 minutes a week and see yourself lose 5% of your body weight!
Figuring out what to do can be a bit confusing on your own, so worry not because Stark Fitness Studio is here to help. We will chart out the fitness routine that's best for you…because we can't have you feeling dead tired by the end of the day, now can we?
It's Time To Lead an Active Life
At Stark Fitness Studio, the best Modern Fitness and Gym Studio in Highland Park, we do much more than just providing you with the equipment. For a person to stay motivated during a workout session, they need proper trainers who know when to push hard and when to rest the body.
If you want to strike a perfect balance in your exercise routine, join us today. When you're working out, you always have energy, you're in a good mood and weight related issues vanish completely! Whatever may be the reason for you to start, we'll help you carry on with it and that's our promise.